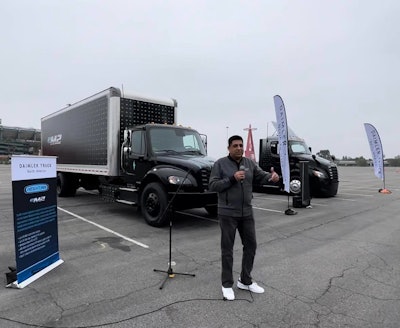 Angel Coker
Freightliner eCascadia's little brother – the eM2 – has exited the prototype stage with production set to begin at its Portland truck manufacturing plant in the third or fourth quarter this year. Daimler Truck North America (DTNA) announced Tuesday at ACT Expo in Anaheim, California, that it is now taking orders for the electric vehicle.
The company is also expanding its eM2 innovation to vocational sectors like electric utility, street sweeper and dump truck medium-duty applications.
The Class 6/7 eM2, built on the M2 106 Plus platform, expands CO2-neutral transportation to the medium-duty segment, designed for pickup and delivery, beverage delivery, lease rental and other applications, including refrigeration with an electric power takeoff (ePTO) integration option – all segments perfect for the battery electric market because of the relatively short, return to base nature of the routes.
The eM2 joins the eCascadia Class 8 tractor that has been in production since last year and delivered to customers across the country, including JB Hunt, Schneider, Walmart, Penske, UPS and US Foods to name a few. It also joins the MT50e walk-in van and the Thomas Built electric school bus in Daimler's electric product suite.
[Related: Daimler Truck launches new electric truck brand]
"For drivers who have already experienced this truck, they love it," said DTNA eMobility Product Marketing Manager Katie Rabideau as she gave a tour around the truck ahead of ACT Expo in Anaheim, California.
At launch, she said the eM2 will be available with 26-foot body applications. Greg Treinen, DTNA director of on-highway market development, said the eM2 includes the Detroit ePowertrain with proprietary eAxles and batteries that have already been well tested in the eCascadia.
"The eM2 is based on the M2 106 Plus (diesel) platform. That has been the medium-duty workhorse over the past two-plus decades," he said. "We felt that as we were developing our e-mobility effort for the medium-duty space it was important to have that level of familiarization – having a smooth transition for our customers in that space to battery electric and having a lot of the same benefits our customers experience with the M2 106 Plus with the visibility, turning radius, ingress/egress... So it's a truck our customers, our fleets [and] our drivers will have a level of familiarization with."
The eM2 Class 6 single-motor configuration provides up to 190 continuous horsepower and a 194 kWh battery pack for a typical range of 180 miles with a single charge. The eM2 Class 7 dual-motor configuration provides up to 255 continuous horsepower and a 291 kWh battery for a typical range of 250 miles. The battery pack has a proprietary battery side impact protection for extra safety.
The vehicle minimizes energy cost per mile by removing the drivetrain and other mechanical components in favor of a lighter, simpler design, which packages the electric motors and 2-speed transmission directly onto the drive axles. Multiple battery size options are available so customers can find the right balance between range/runtime and price.
"By integrating the motor in the axle versus a central motor, we've been able to save weight and efficiency by eliminating the driveline. We're also optimizing weight and space by integrating it with the axle versus consuming precious space where the batteries are currently, optimizing wheelbase as well," Rabideau said. "By locating the motor in the center of the axle, we can use industry-standard wheel ends so the braking systems, the wheels [and] the tires all can be shared with what we are spec'ing on our diesel vehicles."
On the inside, the eM2 features an ergonomic wraparound dashboard with a touchscreen LCD display that is fully customizable for the driver. Built with Detroit Connect, which offers new eServices and provides charging information and vehicle health data in realtime, the eM2 allows fleet managers to plan new routes with realtime range prediction, updating automatically for traffic, weather, topography and other conditions; monitor battery health and state-of-charge for multiple units in realtime; and collect data for post-trip analysis reports, which can help coach drivers to maximize energy efficiency and battery lifespan.
The eM2 also includes the Detroit Assurance suite of safety systems, which includes active brake assist 5.0, tailgate warning, adaptive cruise control to 0 mph, lane-departure warning, intelligent high-beams, automatic wipers/headlamps and side guard assist.
Vocational offerings
The eM2 and eCascadia both accumulated more than 1.5 million test miles during customer trials. Now, DTNA is partnering with multiple companies for customer trials to expand the eM2 to the vocational markets.
[Related: DTNA leveraging customer feedback to refine electric strategy]
DTNA has launched an eM2 vocational innovation program with leaders in the truck equipment manufacturing industry and their customers to focus on providing zero-emission solutions for the unique requirements of vocational customers and applications. This program particularly targets the utility, sweeper, dump, towing and recovery and refuse segments, and will be packaged and designed for maximum frame space utilization with minimal impact on upfit, especially in the utility segment.
Altec, which provides products and services to the electric utility, telecommunications, tree care, lights and signs and contractor markets, joined DTNA at ACT Expo this week to showcase one of the battery electric utility trucks.
Brian Daniels, DTNA vice president of vocational national accounts, said battery electric technology fits well in the vocational industry, similar to the bus and walk-in van, because of the short routes associated with these types of vehicle applications.
"I think the vocational market is the perfect area to talk about (electrification)," Daniels said. "The key takeaway is there isn't a one-size-fits-all."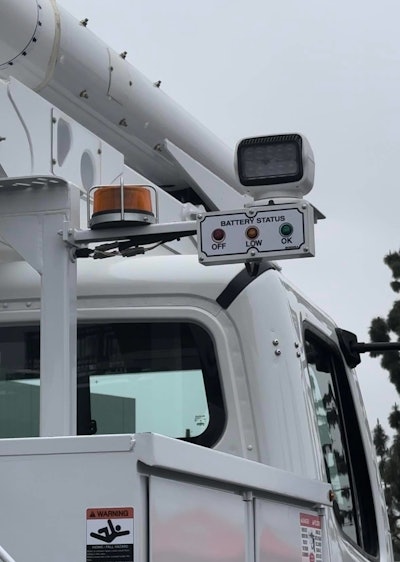 The eM2 vocational configurations will be customizable. For example, the Altec utility vehicle battery is used to perform functions with the boom and bucket in addition to drive time. The utility vehicle showcased at ACT Expo also featured a battery status device on the boom so operators can have a visual awareness of how much battery life is left to get them down and back to home base from the job site. Daniels said a street sweeper that operates a short distance but for a long period of time at slow speeds would need different customization.
The eM2 vocational vehicles are targeting these specifications: a 330 kWh battery capacity with the potential to go up to 150 miles; wheelbases between 155 and 220 inches; only 10 inches of back-of-cab protrusion space for battery; and both electric and mechanical ePTO options to support hydraulic and battery-powered body equipment using the vehicle's HV battery.