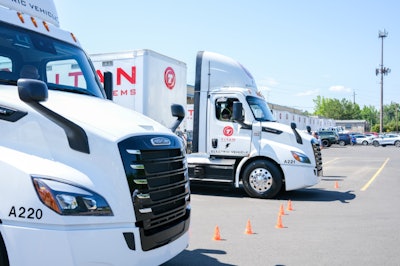 It's hard to sell diesel fuel to Keith Wilson. As president of Portland, Oregon-based LTL carrier Titan Freight, Wilson has spent the last several years weening his fleet off of it.
Renewable diesel powers roughly 54% of Titan's annual miles across three states, Wilson said, with the other 46% fired by petroleum diesel. The motor carrier is 100% renewable diesel from its Portland headquarters, and Wilson said the carrier would be a total renewable diesel convert if it could only get the fuel more widely in Washington and Idaho.
"If we drive today from Portland to Spokane, Washington, which is 350 miles away, that city in Eastern Washington doesn't have access to renewable diesel," he said. "Our driver will fuel today in Portland (with renewable diesel), get to Spokane, and get as far back as they can to Portland, and then they'll stop and top off the tank with petroleum diesel."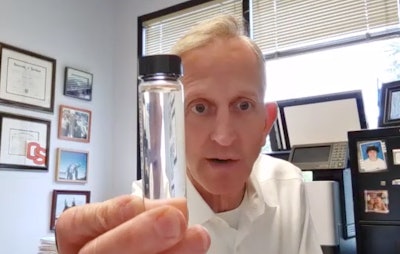 Help could be on the way to extend the region's renewable footprint.
Targray, an international supplier of renewable fuels and feedstock, in June expanded its North American supply and distribution network with the opening of a new biodiesel terminal in the state of Washington, which has mandated a biodiesel blending requirement since 2006.
The Clean Fuel Standard (CFS) is a state-regulated legislation in Washington which requires fuel suppliers to gradually reduce the carbon intensity of transportation fuels to 20% below 2017 levels by 2034, as part of a plan to cut statewide greenhouse gas emissions by 4.3 million metric tons a year by 2038.
The market-based policy approach in Washington encourages fuel suppliers to improve efficiencies in their fuel production processes and provides incentives for producing or blending low-carbon fuels. Credits are generated for clean fuels containing a carbon intensity below the standard, which can be kept or sold to high-carbon fuel producers who need to meet their carbon-intensity reduction targets.
A wider rollout is only going to be more of a boon for Wilson's bottom line. His fleet gets renewable diesel in 10,000 gallon increments at about a 30-cent per gallon discount to petroleum diesel.
"When we started in 2019, there was one supplier in the market," Wilson said, "and we paid about 10 cents per gallon more. Today there are six suppliers in the Oregon market and because it's not based on crude oil, the price for renewable doesn't go up. They'll use petroleum diesel as a benchmark, but you have six people competing against one another. That's our second largest cost (fuel), and we're now able to do it at about a 9%-10% reduction over our peers who aren't using it. That's a significant competitive advantage and margin gain – and we're reducing emission by up to 80%."
Oregon, the single largest timber producing state in the U.S., will soon begin producing bio crude oil from timber waste that currently is burned. Once that is refined into renewable diesel versus set on fire, Wilson said, the fuel's carbon intensity score will be negative-54. Traditional diesel fuel has a carbon intensity score of 82.
"It's a multi-energy future. Electric is great in some capacities but diesel engines are going to be around for generations," Wilson said. "A ship you build today has a 50 year life. A train you build today has a 50 year life. Those are all diesel-powered pieces of equipment. The goal is, how do we get zero or negative carbon fuels into that diesel engine to still allow that diesel engine to work today? Because diesel power is extremely good. That's why it's been around for 100 years."
Renewable diesel is a 1:1 drop-in replacement for petroleum diesel, meaning there is no prep work needed to use the fuel and there's no harm to the fuel system if a driver has to mix renewable with petro. Wilson said even if when mixing the two the truck reaps some of the advantages of renewable.
"If a truck is using some petroleum diesel and putting some renewable diesel in it, because it has such a low soot load on renewable diesel, we're getting the benefit of just cleaning the exhaust system even if a truck is using petroleum and renewable diesel," he said. "Because there's so few deposits going through the crankcase and through the exhaust system, the DPF changes are non-existent, the regens are gone, the one box change outs are over and just overall vehicle performance has increased dramatically."
Lower soot levels have enabled Titan to rethink oil changes once a truck's warranty has lapsed.
"We run our trucks up to 800,000 miles before we swap them out. Once it's off warranty we are going to lower the overall operating cost of that truck and since the soot load is so low – primarily a truck running in Oregon, the soot load is just very little – we sample the oil at the PM point and we don't drop it until there are certain contaminants that we start to see," he said. "Then we'll drop the oil as if it's a part rather than a commodity. It's just a part. When the part is diagnosed as not at the min-or-max that we're looking for, then we'll drop it, and only then."
"We look at fluid usage and timing," Wilson said, adding Titan used to drop its oil about every five months as a practice, but currently that's about 18 months. "We've seen our fluid usage drop 78%."