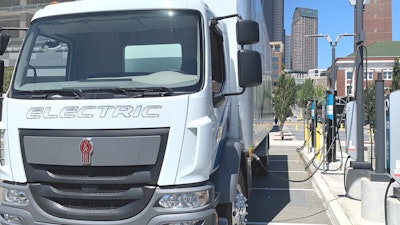 Kenworth Truck Company
Not every dealer operation will be impacted by alternative powertrains in the immediate years ahead. While dealers in California are being forced to evolve rapidly due to state regulations and mandates, dealers in other areas of the U.S. and Canada may not sell an EV or non-diesel tractor for many years.
Through fleet engagement, market analysis and an understanding of available incentive programs, dealers can identify customers that may be considering alternative powertrains and use that information to prepare their businesses ahead of their customers.
Connect with customers
The best way to uncover customers' interest in alternative powertrains is to just ask them. California's Advanced Clean Fleets rule and the Environmental Protection Agency's (EPA) next round of greenhouse gas and fuel economy standards are directed at vehicle owners, as are financial incentive programs designed to generate interest and purchases of EVs and other low-emission equipment. Large public carriers, cutting-edge fleets and early adopters of other technologies are likely to be first to evaluate the viability of alternative powertrains.
[RELATED: What constitutes as 'alternative power'?]
"When we first started talking to customers about EVs we were actually a little surprised by their motivations," says Wayne Hammond, vice president of strategic initiatives at TEC Equipment, which in 2021 became the first Certified EV Dealer in Volvo's network. "For a lot of them, a key decision-making factor was sustainability goals. Obviously, being in California, there were other factors too, but several large carrier customers mentioned Wall Street, and public pressures about ESG [environmental, social and corporate governance]."
Another customer segment where early EV adoption is noticeable are municipalities. Many urban areas have local legislators and administrators who commit to reducing emissions and see EVs (typically buses) as solution they can sell as a campaign promise.
Navistar chose to make its first EV solution the IC Bus Electric C Series to capitalize on this trend, says Michael Lynch, director, Zero Emissions. As a market leader in the bus segment, Lynch says customer interest in electric buses has been growing for years. The bus first hit roadways in 2018 and adoption has been rising ever since.
"It was the perfect application for the launch of our journey to EVs," Lynch says. "[Buses] are not highly utilized assets, they have defined routes, they are very receptive to depot charging and they are bought by customers who are intrigued by the EV model."
Recognize optimal applications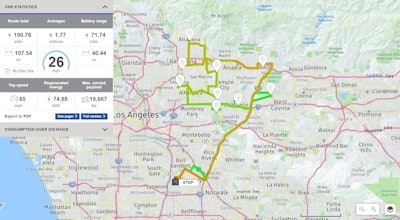 Specific duty cycles also are proving to be more receptive to EVs and alternative powertrains. Dealers with large subsets of waste hauler, last-mile delivery, yard trucks and dedicated regional route customers may see an influx in EV demand ahead of the market at large.
In its Guidance Report "Electric Trucks: Where they make sense," the North American Council for Freight Efficiency (NACFE) stated EV early adopters to be "urban delivery Class 3 through 6 segments where operations are characterized by fairly stable route definitions between 50 and 100 miles per day, loads tend to cube out, and vehicles run one shift per day and return to the same base location."
Hudson County Motors, which serves the New York and New Jersey metro areas, has been selling heavy-duty EVs for more than four years. Most of those sales have been sanitation trucks and yard tractors that can run all day and are charged overnight, says New Vehicle Sales Manager Tom Del Gaudio.
"Those customers have been very happy because the technology is perfect for them," he says. "They aren't on those long routes where charging becomes an issue."
Del Gaudio admits his early adopter customers were also highly motivated by incentives — both states offered grant funding to bring EVs purchase prices more in line with diesel — but adds customer satisfaction for the equipment is very high.
He cites one New York City customer who purchased 10 yard trucks in 2021. "In two years we haven't had a single phone call from them for service issues. They are using them every day and are very happy."
Uncover financial incentives
The impact of grant money on customer decision making also can't be overlooked. Customer interest in alternative powertrains ratchets up when price parity is achievable.
OEMs can be helpful in this area. Volvo Trucks North America has created a corporate unit that works with state agencies to identify and catalog funding programs and their eligibility requirements, says Jared Ruiz, EV leader and vice president. Ruiz says the team is working with dealers to "drive that information to customers and make sure they know what is available."
[RELATED: Despite OEM marketing, electric truck TCO 'a big unknown']
CALSTART is the official agency of record for California's many automotive and heavy-duty incentive programs and Clare Bachman, fleet technical assistance project manager, says her team spends a lot of time on public outreach to all commercial trucking stakeholders. Beyond its website, which serves as a master list of current and upcoming programs, CALSTART recently launched the Cal Fleet Advisor program and holds in conjunction with the state's Air Resources Board an annual Zero-Emission Trucks Showcase event each year.
Bachman says both were developed to reduce the noise around ZEVs and their adoption curve.
"There's so much out there that is unknown to people. We really want to offset those fears," she says. "We want to provide support — case studies for fleets, incentive programs, deadlines — and show them how they can move forward."
Bachman also notes while the programs are fleet-centric, dealers also are encouraged to use the resources when communicating with fleet customers or for internal edification. Dealers are responsible for applying for California Hybrid and Zero-Emission Truck and Bus Voucher Incentive Project (HVIP) funding on behalf of customers, she adds, which means dealers uninformed about incentive programs or unwilling to learn are at risk of losing customers to more informed competitors.
"Dealers play an important role in ZEV adoption," she says.
Keep up with our special report on trucking's transition to cleaner trucks:
Part I: This isn't trucking's first fueling and propulsion revolution
Part II: Why are we doing this?
Part III: What constitutes as 'alternative power'?
Part IV: What will drive — or inhibit — alternative power adoption?
Part VI: What it takes to install charging infrastructure
Part VII: Training on alternative powertrains vital to employee safety, business success
Part VIII: The challenges of building your best EV service bay
Part IX: Making the case: How to effectively sell alternative power
Part X: Safety in the Service Bay
Part XI: How electric trucks may transform dealer revenue streams